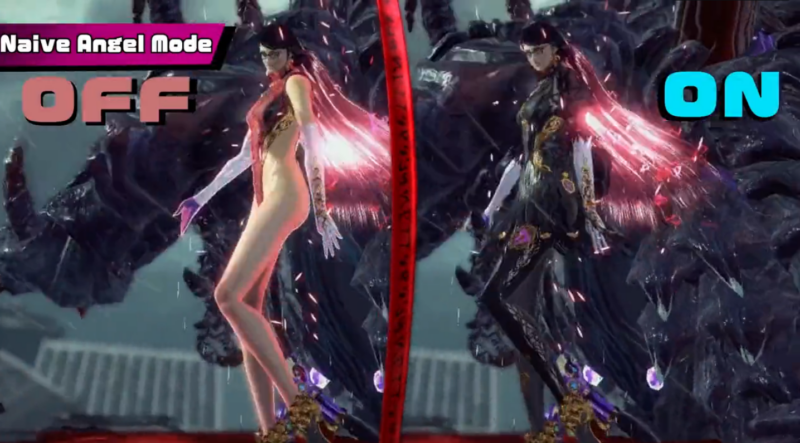 Most fans of the Bayonetta franchise will no doubt be happy to hear that the upcoming Bayonetta 3—which is now planned for an October 28 release exclusively on the Switch—will feature a title character that's "sexier than ever," according to developer Platinum Games. But for players who have young children in the house and still want to "play right in the living room without having to worry about what's on screen," Platinum says it will include a mode that covers up some of the partial nudity the series is known for.
In a tweeted video, Platinum shows how "Naive Angel Mode" will add additional covering to Bayonetta and other characters that might be showing a little too much skin for sensitive players. That includes extra skin covering during some of Bayonetta's dramatic special attacks, where her flowing hair stops serving as her clothing (yes, really) and starts serving as a weapon.
Relax, the witch is back and sexier than ever

We've added the revolutionary "Naive Angel Mode" to Bayonetta 3 so more people can fully enjoy it

By turning it on, you can play right in the living room without having to worry about what's on screen... we think#Bayonetta3 pic.twitter.com/SEs3vqrdYc

— PlatinumGames Inc. (@platinumgames) July 13, 2022
While this new family-friendly mode will tone down the nudity, it's unclear if it will also limit the over-the-top violent "torture attacks" that will be making a return in the upcoming sequel. For Bayonetta 2, the ESRB described those in part as "exaggerated and intense acts of violence [with] enemies thrown into spinning spiked wheels; characters decapitated by a guillotine; a dragon ripping characters apart [and] large blood-splatter effects and gore can be seen frequently." Not exactly content you might want a child seeing over your shoulder during living room play.
Read 4 remaining paragraphs | Comments
Ars TechnicaContinue reading/original-link]