The Apple Mac Pro. It's still the cheese grater design. [credit: Apple ]
CUPERTINO, Calif.—It has been three years since Apple began transitioning its Mac lineup away from Intel chips to its own silicon, and that project completes today with the last product to make the transition: the Mac Pro desktop tower.
The Mac Pro might not look different from its predecessor on the outside, but on the inside, Intel's Xeon CPU and AMD's Radeon Pro graphics are gone, and in their place we have a new chip called the M2 Ultra. This is the same chip in the new Mac Studio; it has a 24-core CPU and an up to 76-core GPU, and it starts with twice the memory and SSD storage of the old Mac Pro. Apple promises it will be "3x faster" than the Intel Mac Pro. Memory tops out at 192GB. These stats all match the new Mac Studio—the only thing you get from the bigger chassis is expansion capabilities and more ports.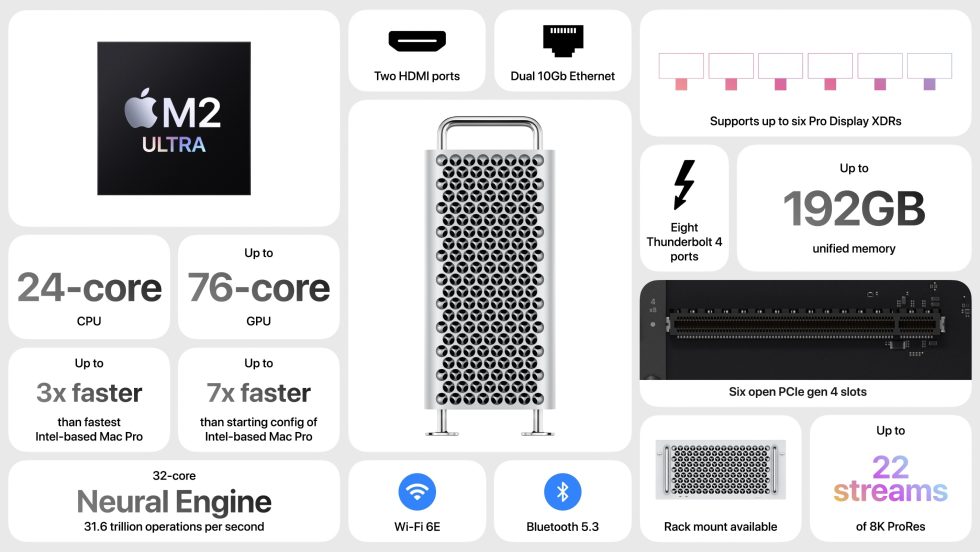 The whole point of a Mac tower is support for traditional expansion cards, and that normally means discrete GPUs. Apple demoed some expansion cards, but none of them were graphics cards. It sounds like you'll be using the M2 Ultra's on-board GPU. Making real graphics cards work with an ARM chip would have been a massive undertaking—for starters, no ARM drivers exist. Even for the non-GPU options, compatibility will be an interesting problem. Apple calls out digital signal processing (DSP) cards, serial digital interface (SDI) I/O cards, and additional networking and storage as PCI express card possibilities.
Read 2 remaining paragraphs | Comments
Ars Technica - All contentContinue reading/original-link]